The Mandarin Oriental Hotel Riviera Maya in Mexico is known for it's access to some of the world's most beautiful beaches, natural sightings and breathtaking outdoor occurrences, so naturally, Rotsen Furniture was honored when we were asked to supply some of the furniture to grace the hotel.
At Rotsen Furniture, we are based in the United States and work very diligently to craft one-of-a-kind furniture, often custom made or customized to specific requirements, in both the U.S. and Brazil. We pay careful attention to create furniture that will stand the test of time and fleeting fashion. This is furniture to cherish for a lifetime and pass on to future generations, which is why we are often asked to create unique pieces for hospitality companies (as well as residential) interiors that will stand the test of time. In a world with finite resources, choosing even a single piece of Rotsen furniture offers an alternative to buying and replacing a succession of mass-produced furniture that is destined for the landfill.
Today, we would like to share with you photos and highlights from our interior design collaboration with the Mandarin Oriental Hotel Riviera Maya in Mexico. We had a really great time creating pieces for the beachy-chic concept that was presented to us by the hotel as we honored our dedication to creating furniture that shows a strong connection between an interior and organic elements of it's natural surrounding. If you're not yet following us on Houzz, CLICK HERE now to gain access to more details behind this project, among many others, and direct links for easy shopping of our ready-to-ship pieces. Just click on the little green tags that you see below in the photos:
Seen above: The Natural Edge Console and Solid Wood Bolacha Coffee Table by Rotsen Furniture. The solid, raw edge wood slab console table is a display of simplicity and beauty while the round table top of the coffee table shows the exquisite Tamburiuva wood grain, heightens the interest of the piece, making the visible rings a great conversation topic.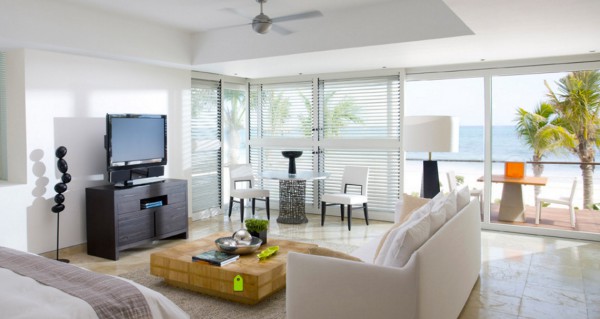 Seen above: The Manteiga Coffee Table for one of the Villas at the Mandarin Oriental. This puzzle-like cocktail table is made using a labor intensive technique in which each piece fits perfectly to allow a smooth table top. Each cross-cut piece of wood is selected to show details of the rich wood grains.
Seen above: The Geometric Console – Solid Raw Edge Wood Slab, made with a single slab from a naturally fallen Tamboril tree, this table was designed based on the unique characteristics of the wood. The cross-through legs, visible from the top, and the natural split at the center of the slab became the focal point in the design process. The result is a unique piece, with strong character!
Don't forget! You can find all of the details and direct shopping links to the products seen above, on our HOUZZ profile.